Today, financial mobile applications and similar digital platforms need to provide much more than simple banking processes like payments and transactions, due to consumers' high expectations and an increasingly competitive e-banking industry. FIs already recognize that advanced technologies like artificial intelligence (AI), machine learning (ML), applied robotics, and biometrics are more and more relevant to deliver innovative products and services that cater to consumers' dynamic needs. These ever-changing needs require solid prioritization by FIs in terms of investment and shifting their budgets to the proper channels in hopes of overcoming the competition and delivering what their customers expect.
A dramatic shift was shown in global priorities in the banking sector post-COVID-19, pertaining to 2020 and into 2021. The actual digital transformation stood out as a top priority for banks, with 75% of them acknowledging that these dire times are in critical need for them to fully switch their offerings to digital channels. This emphasizes that even traditional FIs have increased awareness that digital is the way to go during a global crisis; a fact that is even more amplified by the 51% of them that believe that improving customer experiences is their second top-most priority. Customers today are digitally savvy and have low tolerance for bad user experiences and non-responsive customer service channels, so FIs need to step up their game in providing fluid experiences that people of all ages can relate to. When considering that organizations are always looking out for cutting costs and minimizing risks, it's hardly a surprise that, even after Coronavirus, they are still holding both these aspects in high regard.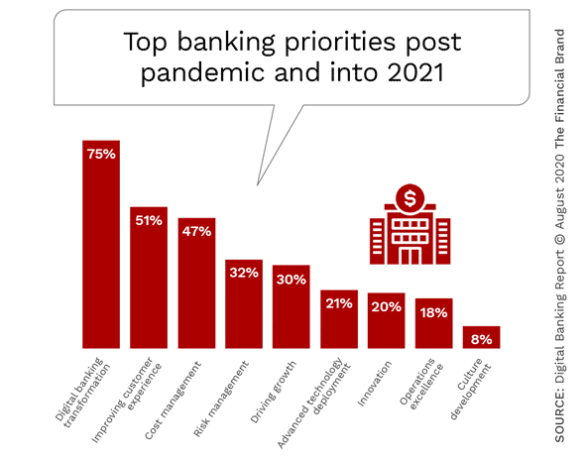 Source: The Financial Brand
It's not enough to just find out what FIs think of digital transformation in and of itself, it's also critical to understand how they perceive the importance of the transformation and the impact it will have on different aspects of their business, and ultimately their clients. The shift to digital has obvious enhancements to improving all customer experiences and engagement metrics. Another obvious advantage to using advanced digital technologies is the direction being taken by many FinTech companies and trendy financial organizations today, which is implementing artificial intelligence, machine learning and deep analytics in their offerings. These emerging technologies have demonstrated tremendous potential over the last few years, witnessing FIs putting these technologies as the second-most important area of implementing digital transformation strategies today. Another key takeaway, although financial organizations accept and are moving forward with digitization, some of them are still reluctant to apply that change to their overall business models as well as their legacy core systems. This indicates that conventional legacy banks and FIs understandably value their core systems as they are, but are simultaneously willing to go digital in other aspects of their business. In that regard, the future could show them the benefits of digital enough to convince them to transform their legacy system at some point in time.
In conclusion, the global COVID-19 pandemic has resulted in a major shift to digital, or at least has created enough of an economic impact on markets to grab the attention of any financial institution during this crisis. As banks and other financial organizations strive to successfully implement their digital transformations and cater to the dynamic needs of their customer base, they generally have a comprehensive view of what they want to achieve in the digital sphere, and what it they need to stay relevant and desirable in terms of prioritizing their activities. The execution of these strategies is a different matter, and the FIs need to increase general digital awareness internally and put the time and effort to allocate resources, evaluate their challenges and turn them into strengths, in order to achieve the best possible version of their digital transformation and therefore provide the required level of quality products & services to an already-anxious client base during a global crisis.